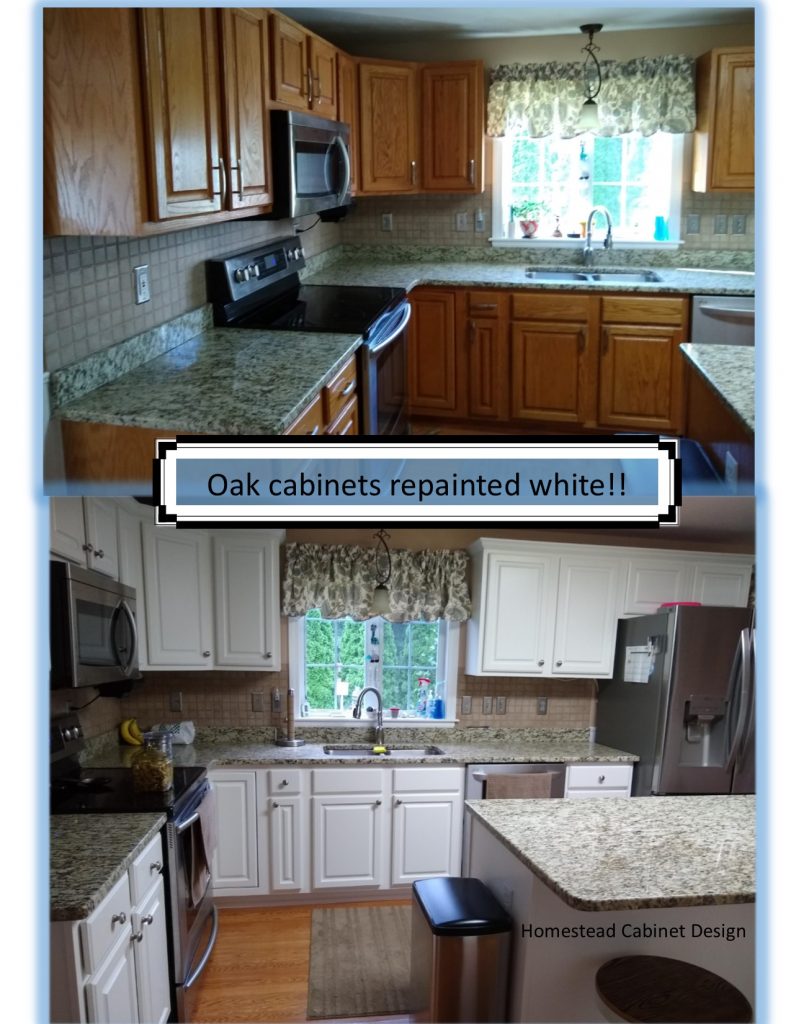 Many questions arise when thinking of repainting kitchen cabinets. For instance, what products do the pros use for professional results? How can homeowners achieve that same glossy smooth finish? Additionally, what if my kitchen needs new doors and drawer fronts or boxes? Or new hardware? Last but not least, can a typical homeowner repaint their kitchen?
Absolutely! If you want to save yourself a great deal of money and have the time and energy, repainting your cabinets gives you a great return on its investment. It definitely requires time, and dedication, so you will want to block out a few weeks of time to upgrade your kitchen. However, the feeling of accomplishment that comes from tackling home improvement challenges is amazing!
Painting your kitchen transforms an ordinary dark and dingy kitchen to a stunning workplace. Indeed, the transformation amazes our clients!! With so good options out there, you can repaint pretty much any color that you want to. There are even ways to minimize the grain, if you have oak cabinets. Virtually, your imagination is the limit!
In this blog we will focus on upgrades you can do yourself, to your own kitchen. For detailed instructions on the actual painting process check out our blog on cabinet painting.
5 Simple Upgrades For Your Kitchen
The most basic upgrades for your kitchen includes: 1. Brand new paint. 2. New cabinet doors. 3. 3/4″ plywood shelves, with veneered edges. 4. Hinges. 5. Hardware.
Best Possible Paint For Kitchen Cabinets
You will want to use the best cabinet grade finishes for your cabinets. Both Benjamin Moore Advance or Sherwin Williams cabinet paint offer good results for painting kitchen cabinets. However, if you want the best, most durable finish that professionals use, use the Milesi one part paint.
Milesi paint definitely costs more than any other cabinet paint, however it dries hard and will last so much longer for you! When using Milesi paint, your cabinets receive that ultimate hard and smooth feel of professionally painted cabinets. Additionally, your hard work will definitely last for years!
If some of your doors need to be replaced, or you have structural issues, you may actually want to think of refacing them. However, most times simply painting your existing kitchen cabinets brings amazing life and vitality onto your kitchen. Totally transforming your work space at a fraction of the cost and hassle of buying new cabinets. You will be amazed at how dashingly beautiful your kitchen cabinets will be with a gleaming fresh coat of paint!!
Kitchen Cabinet Doors
Installing brand new cabinet doors adds a beautiful touch to your kitchen, especially if your cabinet doors show wear and tear! We can source doors in all types for you for a very reasonable price. We have access to all wood doors for staining and painting, wood doors with an MDF center for painting, and all MDF solid core doors for painting. For detailed explanation on the different types of doors check out our blog on cabinet doors.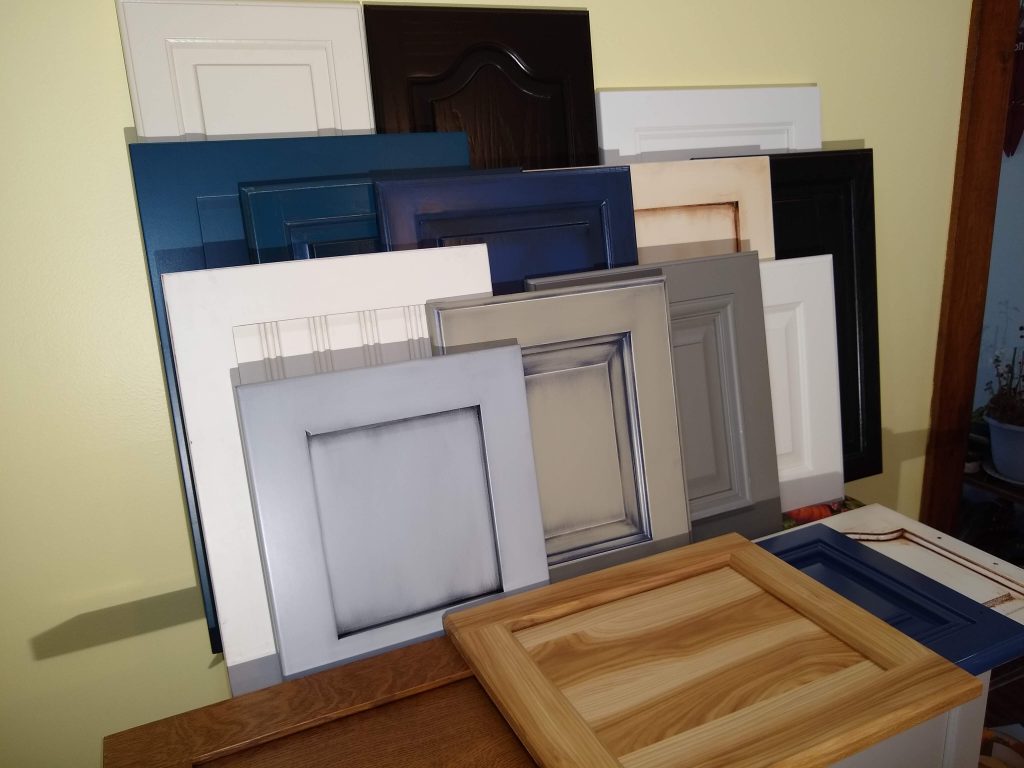 Stained Wood Cabinet Doors
Possibly you have kitchen cabinets in a wood species, and still love that specific color. However the cabinet frame and doors show a lot of wear and tear. At times installing brand new doors in the same wood species/stain color adds a powerful upgrade at a bare minimum cost. Additionally, a simple coat of stain and fresh varnish over the frame of your cabinets covers up the dings and scratches, adds tremendous beauty to your kitchen!
Below you see the beauty of stained wood cabinets. These cabinets received brand new doors, making this kitchen shine once again. With the beauty of full overlay, Shaker doors, very little of the cabinet face is exposed. This allows you to almost fully cover the face of the cabinets with brand new doors.
Therefore, if you want to keep down your costs, think of upgrading to new cabinet doors, along with re-staining and varnishing the frame. This definitely upgrades your cabinets!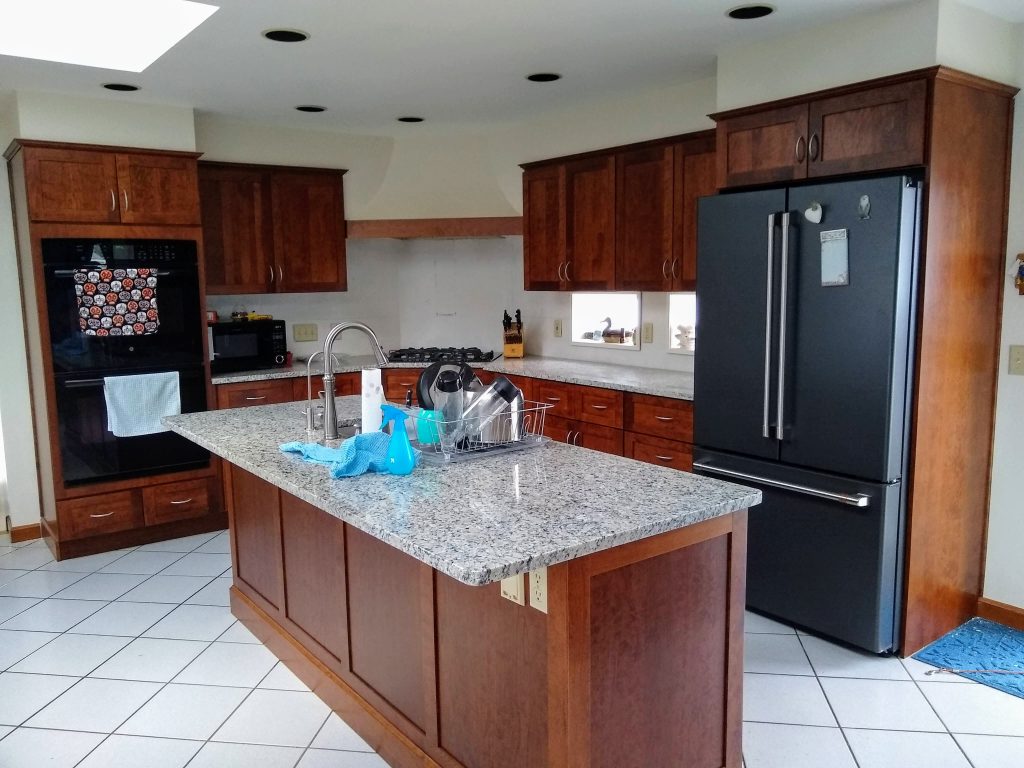 Painted Cabinet Doors
Do you wish to paint your cabinets? Painting opens a whole new world of color in your kitchen! Now you have options in wide array. Do you want to repaint your existing cabinet doors? Keep the same hardware? Additionally, consider the state of your drawer slides and door hinges. Should they be upgraded also?
A lot of this depends on the existing condition of your cabinet doors and hinges. Additionally, how much you want to spend on your kitchen renovation plays a huge factor in deciding to upgrade your cabinet doors. Homestead Cabinet doors offers you two types of doors for painted kitchen cabinets.
The most basic door comes from hard core mdf. This type of door lasts a long time, does not swell, and crack at the joints as wood doors do. Furthermore, they cost less than wood doors.
The other option for paint grade doors consist of a door with a wooden frame, and an mdf center. Both types of doors hold up very well to the wear and tear in any kitchen.
Paint Options For Cabinet Doors
Homestead Cabinet Design offers you the option of buying them unfinished or primed and ready for final coat. Additionally, we offer them primed and sprayed in the top coat color of your choice. Moreover, this gives you that glossy smooth finish that only comes from being professionally sprayed.
Since cabinet doors cover most of your cabinet face, they also show the most, as soon as you have imperfections in the painting process. Thus, deciding to get them professionally sprayed while you prep and paint the face frame makes a lot of sense. This gives you a very professional finished product, while cutting a lot of cost for you, especially compared to hiring someone to repaint/reface the whole cabinets.
We match the exact color you use for your cabinet face, as long as you go with any Benjamin Moore or Sherwin williams paint. Furthermore, we paint grade Milesi paints with added hardeners, ensuring that your doors dry to a harder finish. This gives your doors the best top coat you can give them, along with ensuring that your paint job lasts longer than it would using typical cabinet paint.
New Cabinet Shelves
Are kitchen cabinet shelves sagging because they were crafted from cheap particle board and have seen their share of weight? Replace them with brand new plywood maple shelves, with a real maple veneer on the edge. This transforms your cupboard, allowing you to organize your kitchen as you wish, instead of needing to organize according the weight of your kitchen items. How very freeing!!
Brand new shelves add so much value to your storage space! Additionally, they install very easily. Most times they pop right out. At times, they have a small tab at the top holding the shelf in place that needs to be removed. After removing the clip, take out the old shelf and replace with your brand new shelf. Viola! You now have brand new storage area in your cupboards!
Hinges
Hinges and hardware are the easiest upgrades to add to your cabinets. Soft close hinges add tremendous value to your existing kitchen. After installing soft close hinges, your doors no longer close with a bang. Instead, they glide shut and softly close, using hydraulic mechanisms to keep them from slamming shut.
Soft close hinges replace any standard hinge mounted on your existing kitchen cabinets. They come in three types: surface mount, semi concealed, and fully concealed hinges. Check out our comprehensive blog on soft close hinges to learn the what type of hinge you should be installing in your cabinets.
Hardware
New hardware adds a beautiful finished touch to your kitchen upgrade. You find many options on the market, in a brick and mortar store, or online. Basically, you need to decide if you want to go with hardware that uses the existing holes in your doors and drawer fronts or if you want something totally different.
If you decide to go with a new style of hardware, and are keeping your existing cabinet doors, you need to putty the holes shut with a good wood filler, and sand them smooth before starting to paint the doors. However, if you decide to go with new doors, you can choose any new hardware, without worrying about the existing holes in your cabinet doors and drawer fronts.
Without a doubt, dismantling and installing your cabinet doors, shelves, hinges and hardware saves you a lot of money! Definitely, this depends on your available time, how much time you wish to have your kitchen in disarray, along with the patience and perseverance you as an individual want to spend in redoing your kitchen. However, if you wish to keep the costs of your kitchen renovations down, definitely think of doing as much of the simple dismantling and installing yourself, as possible.
5 Upgrades For Those With More Experience in DIY Kitchen Projects
Five upgrades that require more skilled precision work include: 1. Taking out and installing new drawer boxes. 2. Installing soft close slides in existing drawer boxes. 3. Changing out shelves for shelf rollouts. 4. Adding Moldings to the tops of your cabinets. 5. Professionally finishing the back and sides of your island or kitchen bar.
Installing Brand New Drawer Boxes In Your Kitchen Cabinets
Are your kitchen drawers falling apart? Possibly they comprise of thin flake board sides. Think of upgrading to brand new solid wood dovetailed drawer boxes, for maximum strength and durability! They hold a tremendous amount of kitchen and pantry staples without breaking.
Additionally, our dovetailed drawer boxes come totally assembled, making the swap much easier for you! For detailed information on new drawer box options and organizing ideas, check out our comprehensive blog on cabinet drawers.
Soft Close Slides
Soft close slides replace most drawer slides. However you need to check your existing drawers for the right style of slide. Since soft close slides come in side mount and bottom mount. For brand new drawers we recommend the bottom mount soft close slides. However, if you keep your current drawer boxes, you need to use side mount soft close drawers if that is what your drawers currently use.
Upgrading to soft close slides makes a tremendous difference in the feel of your kitchen. No longer do your drawers close with a bang. With soft close slides, they glide shut to a certain point, then a hydraulic mechanism takes over, and slowly pulls them shut, just as the soft close hinges work. The silence is beautiful after having regular slides in your kitchen.
Furthermore, your drawers always shut right. You no longer have them shutting lopsidedly, or not ending up shutting properly. Nor will you pinch someone's fingers because of slamming drawers.
Soft close slides are more difficult to mount than soft close hinges on cabinet doors. However with a little practice, you gain the expertise needed to change out the slides, and you will never regret making the change. Homestead Cabinet Design offers you step by step instructions on installing them yourself.
Kitchen Cabinet Roll Outs
Kitchen cabinet roll outs are made the same as an all wood dove tailed drawer. However, they are usually only 2 1/2 to 3″s deep. They become mounted to the inside of your cabinets where your shelves formerly were. Most times people use two of them per cabinet door, however you have the option of adding as many or as few as you wish!
Roll outs totally eliminate the need for digging things out of the back of your cupboards. Imagine no more bending way over to find something in the far recesses of your cupboards! Indeed, they bring everything in the cupboard out to you instead of being stuffed back into the cupboards! Additionally, they offer you two full shelves instead of only one small shelf toward the back half of the cabinet as most cabinets have.
Definitely, roll outs make incredible additions to your kitchen for a very affordable price! They add valuable storage and lovely organization to any kitchen! Usually, they come made to be adjustable to maximize your specific kitchen cabinet storage needs. Additionally, below you see how roll outs come in a huge variety of styles and sizes. Indeed, they can be customized to fit any cabinet size and style!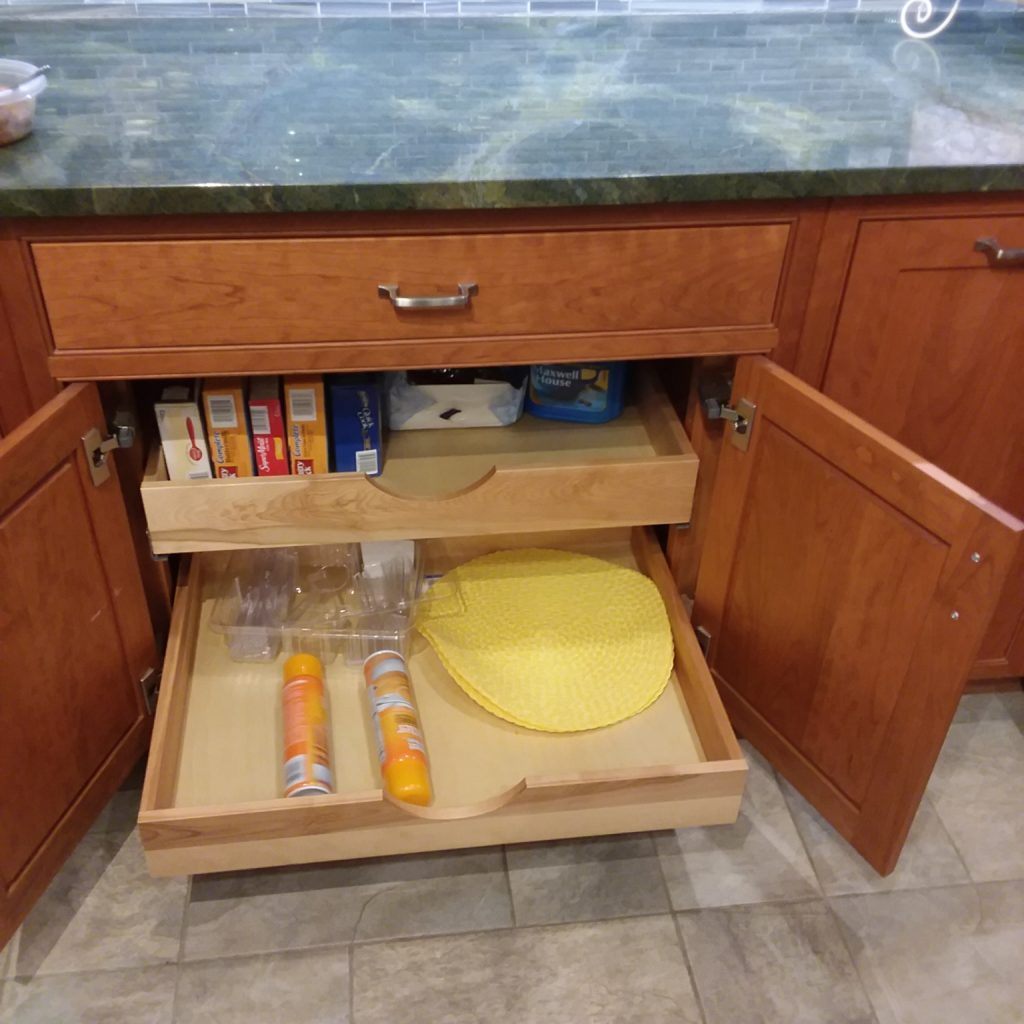 Crown Molding
Crown molding adds a beautifully finished touch top any kitchen. Basically it consists of adding a piece of trim all along the top edge of your kitchen cabinets. However, it does take expertise to get the angles cut properly and then installed. The process is very similar to putting up regular trim, although this gets installed on an angle. The corners need to be cut on 45 degree angles and butted together tightly before pin nailing together.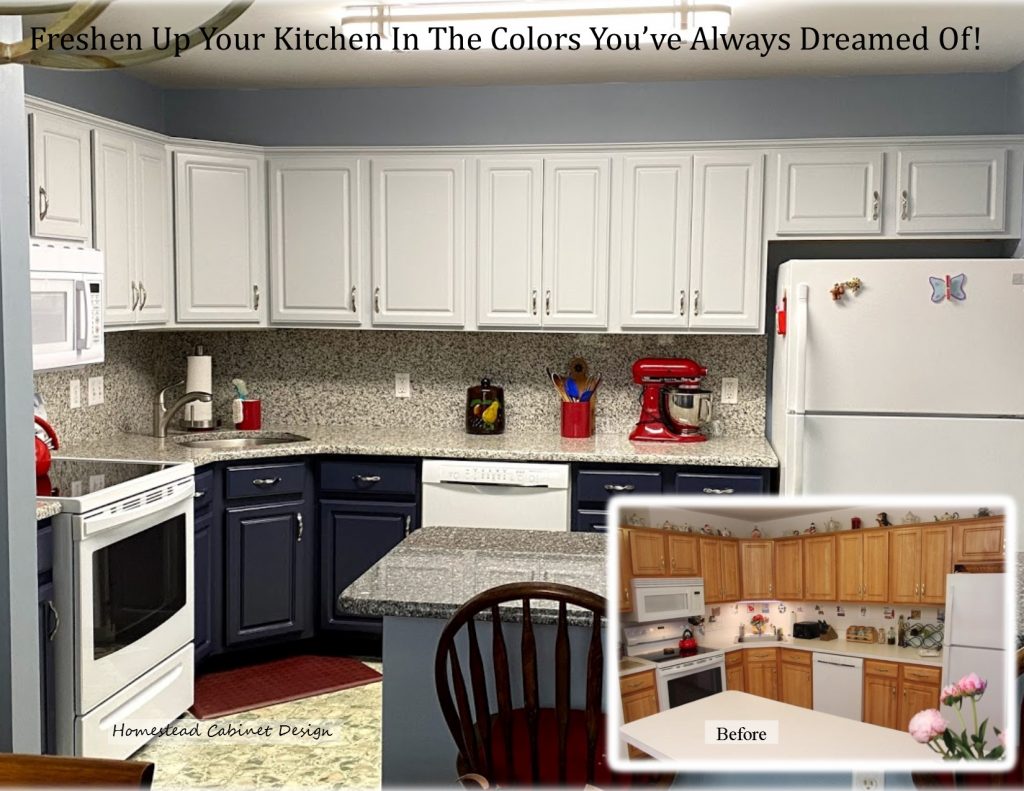 Professionally Upgrade the Back and Sides of Your Kitchen Island and Bar
Professionally upgrading the back of your kitchen island or bar is not for the faint of heart dIY-er. However if you have acquired quite a bit of skill and expertise, or just want to try your hand at a challenging project, upgrading your island back adds visual appeal and beauty to your kitchen. Indeed, it brings tremendous value to your kitchen!
First you want to make a frame work for the back and sides of your island from strips of 1″ paint grade maple, or the species of wood you want to use for the island back.
To begin with, measure your island back and divide the back into two, three, or four equal sections. make a frame with that many openings. It will resemble window frame, with open sections for the plywood, thus giving it a shaker style look. Next, cut and install sheets of paint grade maple plywood or the species of wood you are using onto the back of your frame. Now you are ready to paint/stain it in your color choice!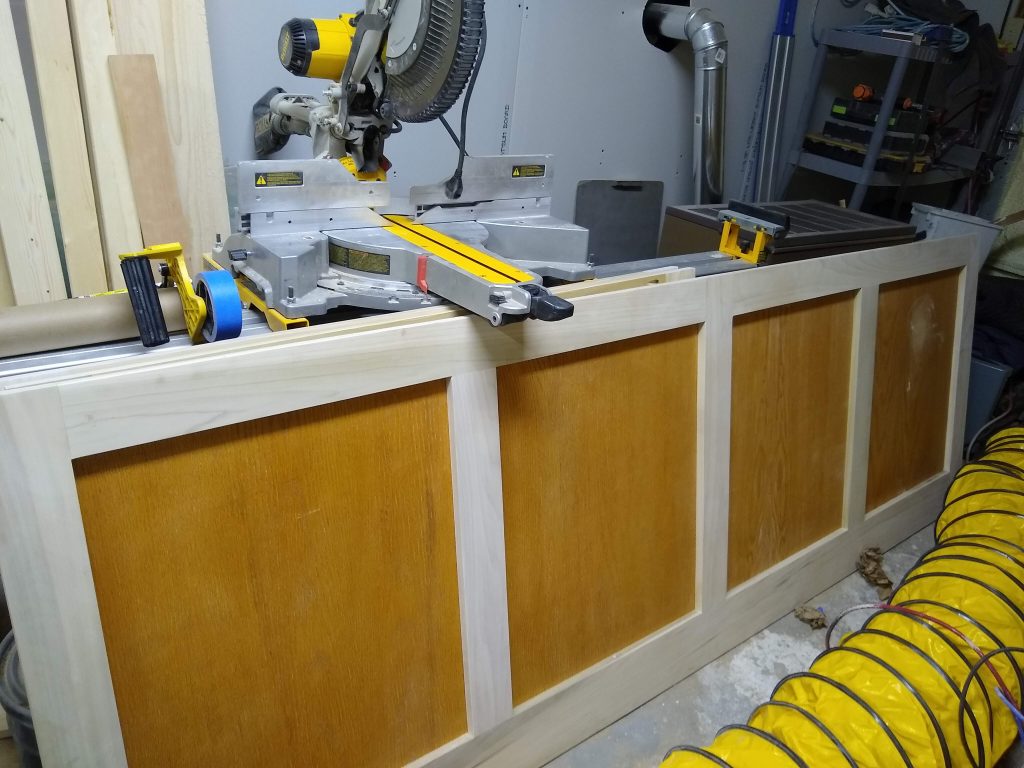 Proceed to prep, prime, and paint as you do for your kitchen cabinets. Preferably, lay it flat to paint to minimize runs.
Repeat this procedure for the sides of your kitchen island or bar.
To install the frame onto the back and sides of your island, pin nail it onto the back of your current island.
For a streamlined finished look, add a toe kick around the bottom of your island painted/stained in the same color as your island. Thus beautifully accenting and making your island a beautiful central focal point in your kitchen! For step by step instructions on completing this, check out the beautiful massive island we built from old oak cabinets from Craigslist for a client!
Below you see an island we refinished for a client with cherry wood in the same fashion. Except here, we used stained wood instead of paint grade maple.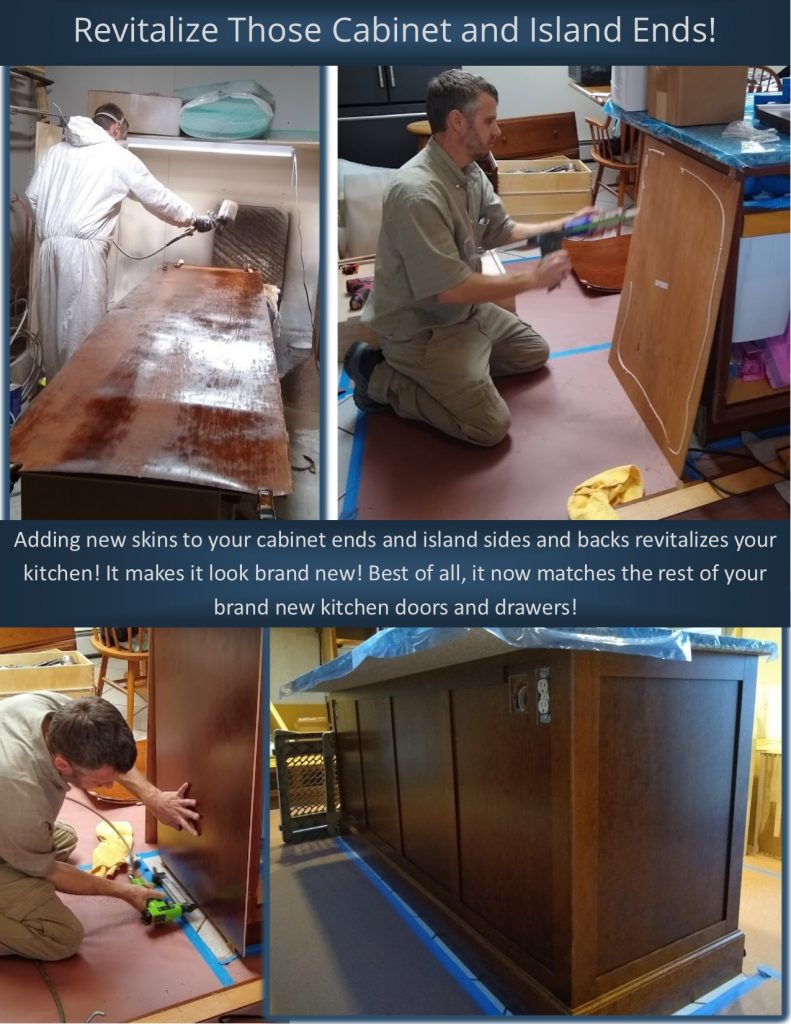 Homestead Cabinet Design Offers You Step By Step Help With Your Kitchen Renovation!
Homestead Cabinet Design offers you a step by step guide to achieving that beautiful professional finish when painting your own kitchen cabinets. Additionally, we offer you one stop options for kits with wood fillers, sanding pads in differing grits, gloves, and the very same rollers and brushes that professionals use!
For more information about our services click here.
Contact Raymond today at Homestead Cabinet Design for an in-depth plan of action for your kitchen upgrades! We help you with ideas, paint options, and storage options for your own kitchen! With a free consultation, you feel actual sample doors and hardware. Give us a try TODAY!!
Call or text Raymond at:
413-685-5743
Or, email me for a personal, fast quote at:
raymond@homesteadcabinet.com
Our mission is to help you upgrade your kitchen, ensuring that you end up with spectacular results for the kitchen of your dreams!!
Additionally, as an insured contractor in MA and CT, we always guarantee our work. Furthermore, we have resources for paint, paint supplies, new cabinet doors, dovetailed drawer boxes, slides, hinges, and hardware for you in a fast and timely manner.
Moreover, if you wish to tackle this project yourself, contact us! We specialize in helping homeowners find the resources to do as much of the kitchen upgrade process themselves- all in one convenient package! Allow us to walk you through the process of taking your kitchen from blah to absolutely stunning!!
Any color, any size- you choose! Again, we match any Sherwin Williams or Benjamin Moore color sample, if you choose to have us professionally, spray paint your doors for you. Additionally, we have many door styles for your to choose from!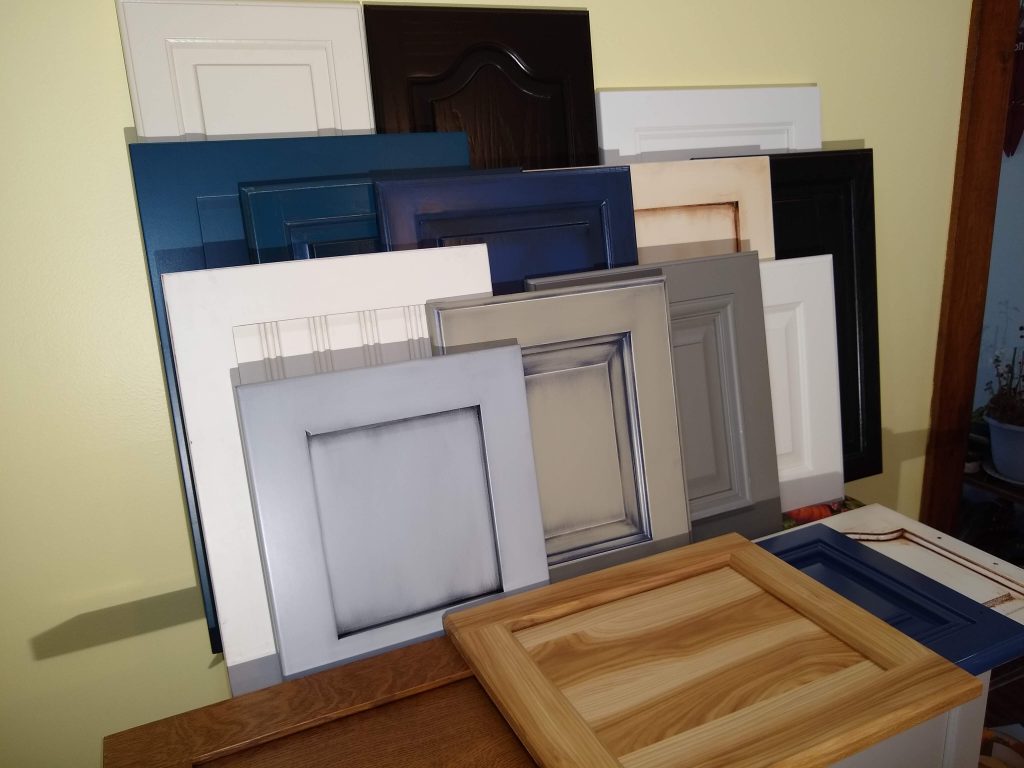 Still not sure what color you want for your kitchen cabinets? Order a pack of some popular trending colors today!