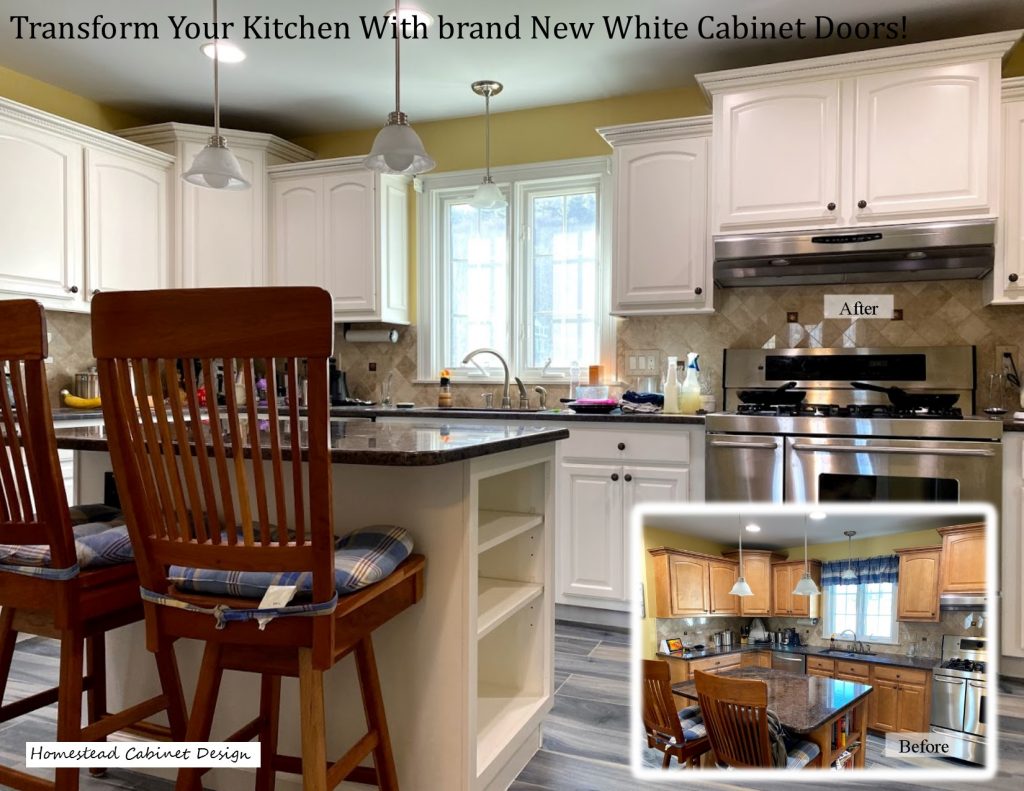 By now you know that you wish to repaint your kitchen cabinets. You really envision a freshly painted kitchen to work in! You may even know what color you want your kitchen to be when it's finished! However you have a hard time knowing where to start. You wonder how a professional goes about to assess cabinets before starting on a cabinet painting process.
Additionally, so many questions come to mind. You have heard of people painting their own cabinets, and the paint failing. Or, they end up with a very unprofessional look, which is not what you envision for your kitchen. You want a professionally painted kitchen, although you know that hiring a professional is way beyond your budget.
Definitely, painting your own kitchen cabinets takes work, and commitment. However, this is a project that can work well for diy-ers, if you follow the same procedures that the professionals use.
In this blog, we give you the first steps in assessing your kitchen cabinets before you ever start. We want to empower you to get that beautiful smooth finish that professionals receive. Furthermore, we give you inside tips into what professionals look at as they evaluate kitchen cabinets to be painted.
Assessing Kitchen Cabinets
Kitchen cabinets come in all different makes and types. Some types definitely paint easier than others. Therefore assessing cabinets before painting means that you know what they are made of, and what condition they are in.
Furthermore, have your cabinets been painted before? Do they have chipping and peeling paint? How about loose and peeling vinyl laminate? How about loose veneers? All these must be assessed before starting to paint, because each one needs special procedures to prep them for painting.
The easiest cabinets to paint are tight grained woods such as cherry, or maple cabinets. Previously painted cabinets need extra steps in prepping them if the paint is at all peeling and cracking. Additionally, cabinets with loosening veneers over MDf panels need major work to prep, and at times it is best to start over.
Remember that your paint only adheres as well as the surface it is put on!
For more information about our services click here.
Check Styles, Components of Your Cabinets, and Construction
To begin with, what style of cabinet you have in your kitchen? Do they consist of cabinet boxes with a frame, or are they frame-less?
Additionally, access what building materials make up your cabinet boxes. Basically, three basic components make up cabinet boxes. Usually, cabinet builders fabricate them with furniture grade plywood sides or cheap flake board with vinyl veneers applied to them.
In this post, we show you how to decipher each type of cabinet, along with special issues each one is prone to. Additionally, we show you how to fix them before painting them!
9 Things to Assess Before Painting Your Kitchen Cabinets
Cabinet construction-Framed or frame-less cabinets
The building materials of your cabinet boxes
The existing hardware on your cabinets
Your cabinet doors
Previously painted cabinets
Hinges
Your cabinet drawers
The condition of your cabinet shelves.
The cost of painting your kitchen.
Assessing Cabinet Construction
Basic Cabinet Construction
When assessing your cabinets, start by looking to see how your cabinets are constructed. Basic cabinet construction always starts with a simple box. Most kitchen cabinets consist of two styles, framed and frame-less cabinet boxes.
Frameless Kitchen Cabinets
Frame-less cabinets have no outer frame on the opening of the cabinet. Instead, the door mounts right onto the side of the cabinet. Frame-less cabinets have no outer frame on the opening of the cabinet. Instead, they have a veneer glued to the outside face of the cabinet.
If this is what you have in your kitchen, check for loose veneers. Be sure to glue any loose veneers before starting to paint.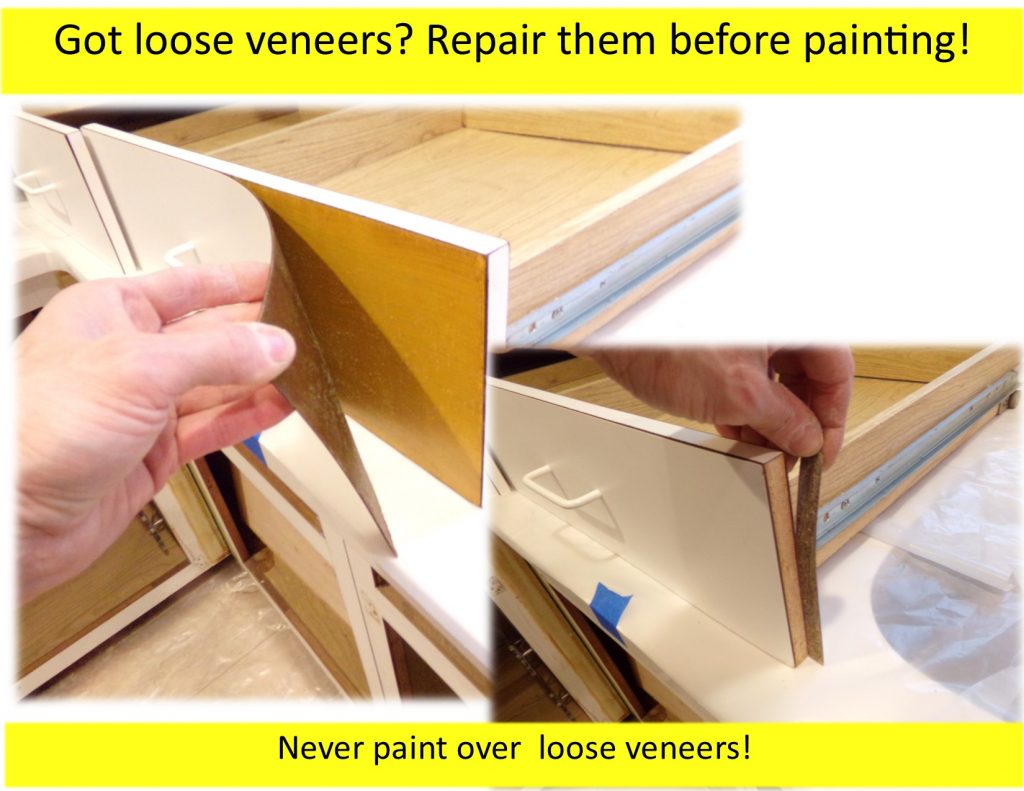 In the event that your cabinets have loose veneers, think of refacing them.
Never, ever paint over loose veneers!!
Framed Cabinets
Framed cabinet construction also consists of a basic box. However they come with a wooden frame mounted onto the front of it. This frame looks much like a picture frame with partitions in it before it is securely screwed onto the box of the cabinets.
Assessing the Building Materials of Your Cabinets
First off, assess your cabinets' building materials. Many cabinets come with solid wood face frames. However the sides of the cabinets usually consist of one of two things- particle board or plywood. Plywood usually has a real wood veneer that is easily sanded and painted.
On the other hand, particle board does not have a real wood veneer. Rather it has a paper thin vinyl covering that should not be sanded. These cabinets can be painted as long as the veneer is solidly intact.
In the event that your cabinets consist of particle board, check for loose veneers, and bulging flake board. Usually this starts at the bottom edge of your cabinets.
Always Repair Loose Veneers Before Painting!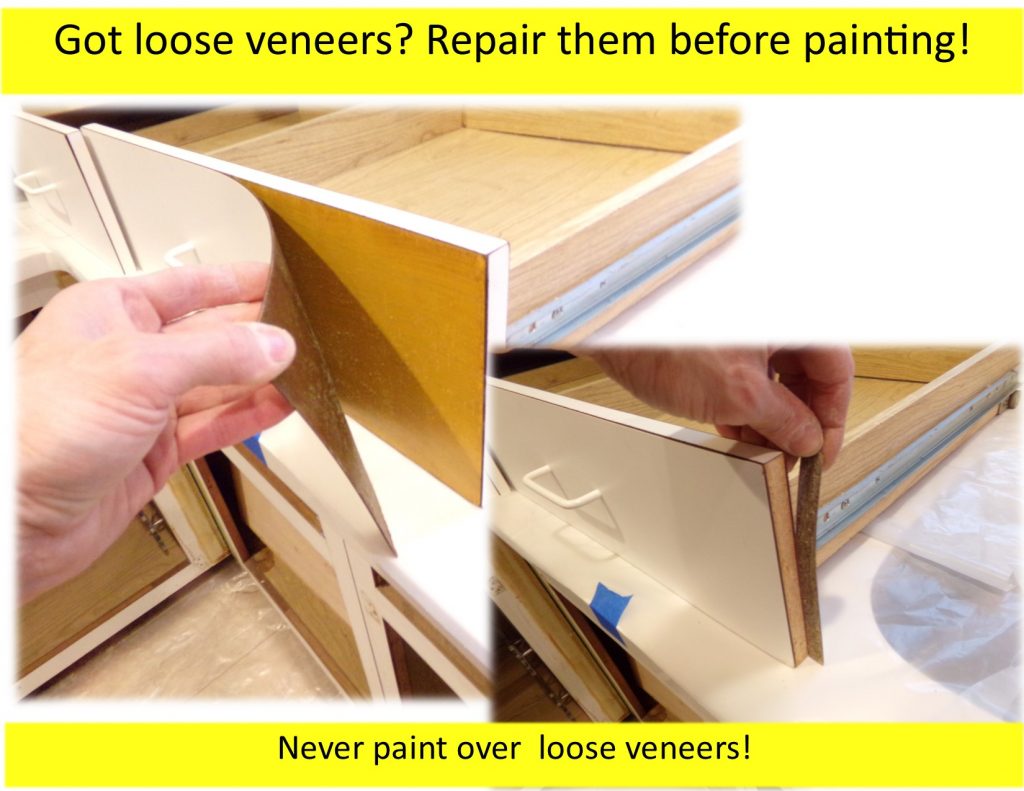 If your cabinets have loose vinyl or bulging flake board on the outside edges, the easiest way to fix them is to apply a 1/4″ plywood skin to the whole cabinet side. This easily gives your paint a good solid surface to adhere to!
In the event that you need step by step instructions for adding plywood skins to your cabinet ends before painting, check out our blog on Fixing Plastic Veneers and Rotting MDF Sides. There, we show you how to salvage these cabinets and get them ready for painting.
Assess Your Hardware
Next, assess your hardware. Do you want to change out or save hardware? Usually this depends on how much you want to invest in your kitchen upgrade. If you plan to keep your hardware, you need to keep them safely in specially marked bags, as outlined in our post on
Assessing Your Cabinet Doors
Along with your hardware, assess your cabinet doors. Always check for loose veneers or broken joints, when preparing to paint your cabinet doors.
In the event that your doors are beyond repair, or you simply want to upgrade your kitchen with a new style of doors, think of ordering ready made doors. Brand new cabinet doors come unfinished, or finished and painted to match the exact color you are painting your kitchen.
Assessing Previously Handpainted Cabinets
Before painting over previously painted cabinets, asses them. First off, do a scratch test in a few different areas with a coin or a fingernail. If any paint peels off anywhere, you need to remove it with a cabinet scraper, or sander.
Paint strippers are an option, although rather messy to work with. Simple cabinet scrapers really do work well to peel off loosely adhering paint.
Any paint that does not peel off, can be sanded smooth and repainted.
In prepping painted cabinets, we go into detail on how to fix this problem, before starting to paint your kitchen.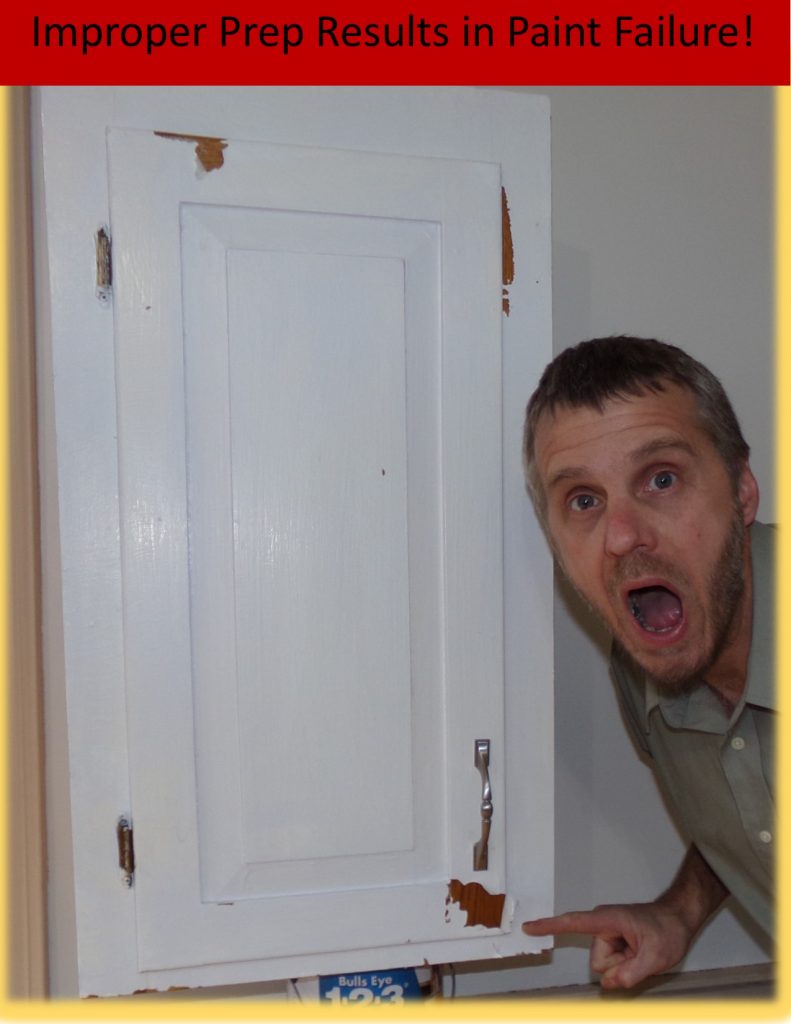 Assess Your Hinges
Can hinges and hardware be reused? In most cases, yes. However, if you wish to upgrade to new soft close hinges, now is the time to do it!
If your cabinet doors have the cup holes already drilled into the back of them, most times soft close concealed hinges fit right into the holes for the existing hinges. These cup holes can also be drilled into the back of almost any door, such as a lip door.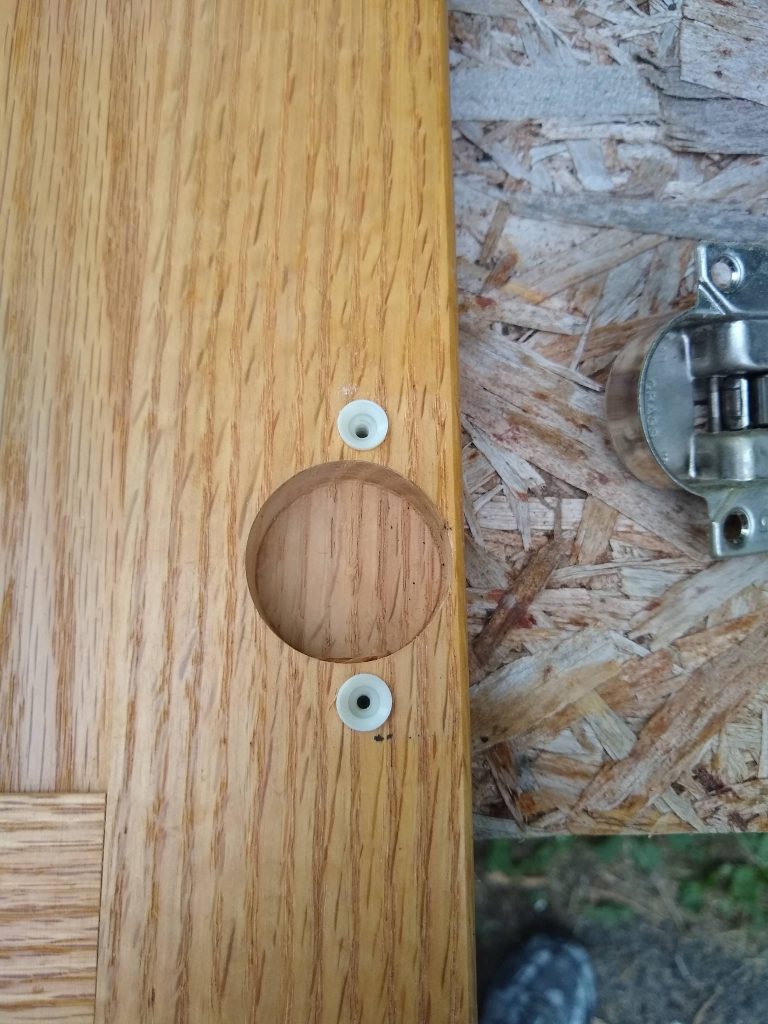 Now, while you have your kitchen doors dismantled is the best time to install those soft close hinges you have always wanted. Soft close hinges change out quite easily, yet make a huge impact on the final feel and outcome of your finished kitchen! The silence while you work in your kitchen later will be so rewarding!
Assessing Cabinet Drawers
Assess your cabinet drawer boxes by pulling them all the way out. Are they sturdily built of solid wood, or plywood? Or are they falling apart? Do you wish to repair them while repainting your kitchen?
At times, drawer boxes come built out of plywood sides with veneered edges. Are you satisfied with the shape they are in, or is now the time to upgrade your drawers also?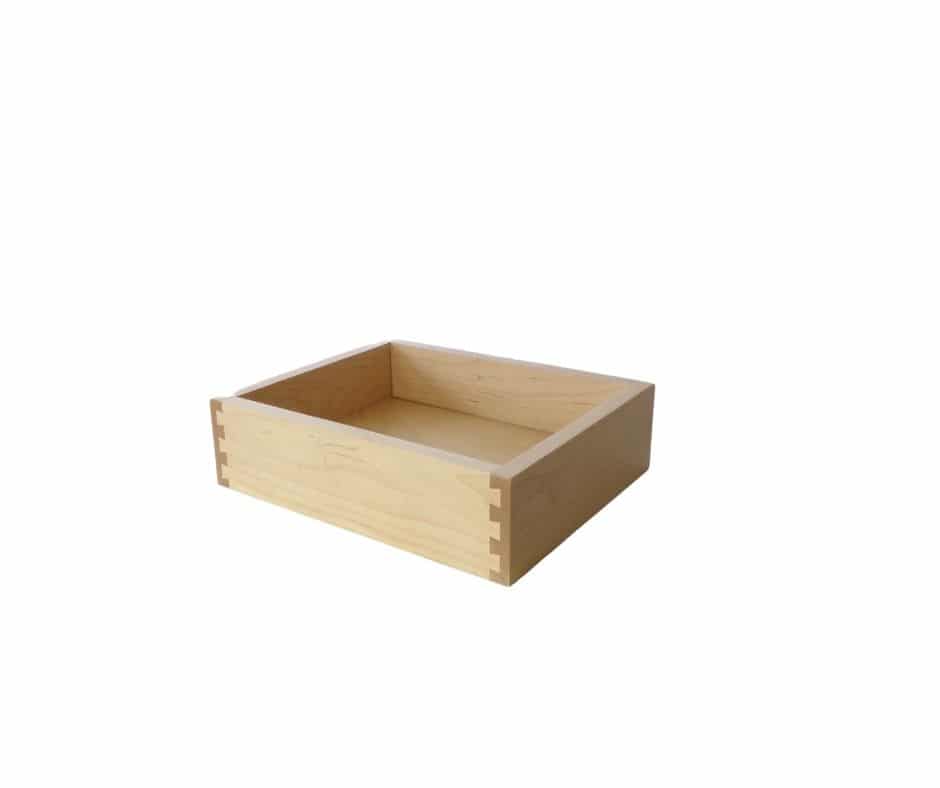 Upgrading to solid wood drawer boxes help keep your kitchen organized and efficient. Imagine having your drawer fronts staying on the drawer when pulling it out, instead of pulling off, strewing the contents everywhere!!
Changing out to all wooden dovetailed drawers with soft close slides, changes the feel of your kitchen, to a Cadillac of a kitchen!
Assessing Cabinet Shelves
Next in line, assess your cabinet shelves. What is the condition of your current cabinet shelves? Do they consist of flimsy particle board? Are they sagging and have seen their best days?
If so, now, is the time to upgrade. Make brand new shelves out of 3/4″ plywood, or order new cut-to-size ones here.
In the event that you want them to look real professional, pick up some edge banding from a woodworking store, and apply it to the outer edge of your shelf. This effectively hides the raw plywood edge.
You will be delighted with your brand new sturdy shelves!
Cabinet Shelf Roll Outs
Substituting cabinet roll outs for cabinet shelves, especially in the lower cupboards, adds a lot of value to a kitchen. However, this takes more skill than making new shelves. For the skilled handyman familiar with installing drawer slides this is definitely worth checking out. For new DIYers, you would do well to get some help with this step of the process
These new shelf roll outs give you the chance to pull out your shelves instead of bending over to find something in the far recesses of your cabinets.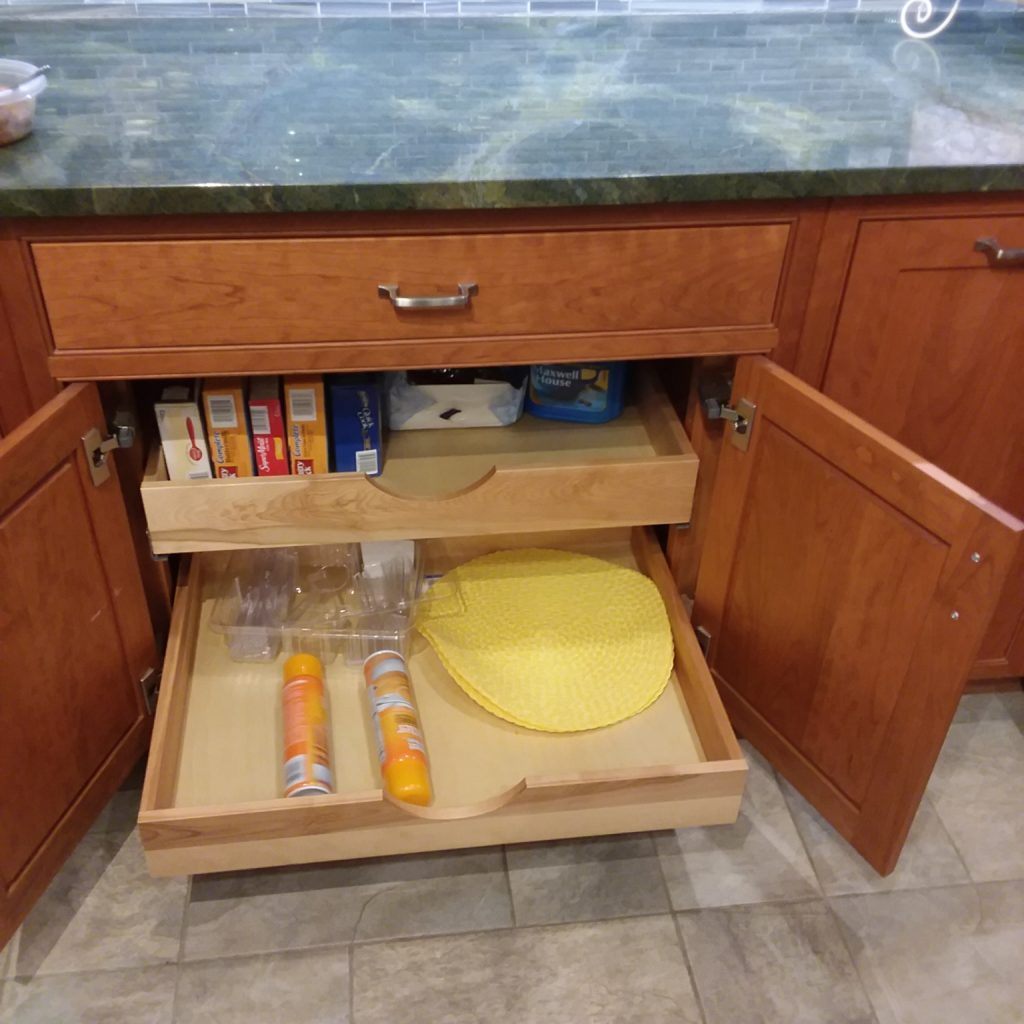 To Paint or Not to Paint the Inside of Your Cabinets
Most professional painters do not paint the inside of the cabinets. If they are really ugly and the cabinet boxes are built out of plywood, then paint will adhere to them.
Additionally, remember that this adds substantially more time to your kitchen cabinet process, so figure spending almost double the time to paint your kitchen. The insides of cabinets are small and tedious to paint, with many small angles to get to. Figure extra time in when blocking out a space of time to paint your kitchen, if you wish to paint the insides of your cabinets.
Furthermore, they tend to scratch much more, due to constantly putting dishes and cooking staples in and out of them. If you do, use really good hardening paint. Otherwise, it will not last very long, and you will see that every single time you open those cupboard doors!
In the end, painting the insides of plastic veneered cabinet boxes is really not recommended. Again, remember that paint will only last as long as that plastic veneer does! If that starts to peel, your paint will peel right off with it.
Ugly Cabinet Interiors? Don't Paint! Rebuild!
To rehab ugly interiors of your cabinets with 1/4″ plywood:
1. Measure all the sides, backs, and bottoms of your cabinets that you want to cover.
2. Figure out how much unfinished 1/4″ plywood you need to cover all the ends of your cabinets.
3. Buy enough for all the ends of your cabinets, in addition to wood caulk adhesive and pin nails to fasten them to the cabinets.
4. Measure and cut each piece.
5. Fasten each piece in place with wood glue and some pin nails.
6. Treat the pin nail holes as any other scratch or crack. Fill with wood filler.
Thinking of painting the interiors of your cabinets? Paint on interiors of cabinets does not hold up well, due to all the kitchenware going in and out of your cabinets on a daily basis. In addition, it will add time to your cabinet painting process!
Assessing Cost Factors
One of the first questions that come to mind when thinking of repainting your kitchen includes accessing the cost. This varies greatly according to the condition of your kitchen, and the extent of the upgrades you wish to add. See our article on Cost of painting cabinets.
Straightforward Wood Cabinets
Assess you cabinets. Are they clean, or do they need a lot of de-greasing and scrubbing to get them prepped for painting? Furthermore, do they require a lot of major repairs?
Straightforward stained, and unpainted cabinets definitely take less time and money to paint. Additionally, the amount of dirt and grease your cabinets hold impacts the time needed to thoroughly clean them.
If your cabinets do not need major repairs, and everything is solid, you could realistically spend between $500- $1,000. That includes good quality cleaners, brushes, rollers, and paint for a small to medium kitchen.
Please do not cut costs on good quality cleaners, de-greasers, sanding equipment and paint. Remember, you get what you pay for!!
Upgrades Cost- But Remember Upgrades Add Value!!
Extensive upgrades definitely add to the final cost of painting your kitchen. New hardware and soft close hinges also add on costs. However, once you finish your kitchen and it gleams with a new coat of paint, you will not regret it!
Additionally, doing the work yourself cuts a lot of installation fees. You will not spend as much simply because you invest your time into your kitchen instead of so many actual dollars.
Buying/Renting a Sprayer Adds to the Cost- But Gives Glossy Smooth Finish!!
Renting/buying a sprayer adds to the cost, also. You could get by with brushing and rolling the cabinet faces and boxes. They will not show up as much if they don't quite turn out perfect.
However, the doors show everything, and for a high quality, smooth finish, this is definitely the best option if you can afford it. Ideally, if you have the space and can afford it, spraying your doors gives you the best possible finish.
Oak Cabinets
A lot of kitchen cabinets being repainted are made of oak. Since oak wood is hard and durable, it makes solid cabinets and doors. At one time oak was the in style of kitchen cabinets. Therefore many homes now have old oak cabinets yellowed and becoming increasingly ugly with age.
These oak cabinets still have very solid cabinets and doors. However, the doors become greasy and gunky from use, plus yellowed from exposure. Additionally, the doors have dated contours, therefore at times people want to upgrade to brand new doors.
These doors can be painted. However, to get them smooth like maple or cherry, you need to use extra measures. You may have to paint a few more coats of primer to help hide the grain. Brushing the primer on, helps you fill in those grain streaks more than just simply spraying your doors. Most times a little bit of the grain still shows through even after painting.
Ready to Paint That Kitchen?
Are you ready to tackle your kitchen, but not sure about the cabinet doors? Possibly you want to paint the face frame, but not the doors. Or, maybe you totally want to get new cabinet doors to give your kitchen a total face lift.
Check out our website at Homestead Cabinet Design, for informational videos on measuring for new cabinet doors, if you wish to upgrade to new doors.
At Homestead Cabinet Design, we help you achieve your goal of updating kitchen and bathroom cabinets either way you want to work it. We can get all new doors for you, dismantle your existing doors, while you paint the cabinet frame, or totally paint the kitchen for you. We are just a phone call or email away!
Contact Raymond today at Homestead Cabinet Design for an in-depth plan of action for your kitchen upgrades! We help you with ideas, paint options, and storage options for your own kitchen! With a free consultation, you feel actual sample doors and hardware. Give us a try TODAY!!
For more information call or text:
Raymond at:
413-685-5743
Or, email me for a personal, fast quote at:
raymond@homesteadcabinet.com
Our mission is to help you upgrade your kitchen, ensuring that you end up with spectacular results for the kitchen of your dreams!!
Additionally, as an insured contractor in MA and CT, we always guarantee our work. Furthermore, we have resources for paint, paint supplies, new cabinet doors, dovetailed drawer boxes, slides, hinges, and hardware for you in a fast and timely manner.
Wish to Paint Your Own Kitchen? Let Us Help You!
Possibly you wish to tackle this project yourself. If so, contact us! We specialize in helping homeowners find the resources to do as much of the kitchen upgrade process themselves- all in one convenient package! Allow us to walk you through the process of taking your kitchen from blah to absolutely stunning!!
Any color, any size- you choose! Again, we match any Sherwin Williams or Benjamin Moore color sample, if you choose to have us professionally, spray paint your doors for you. Additionally, we have many door styles for your to choose from!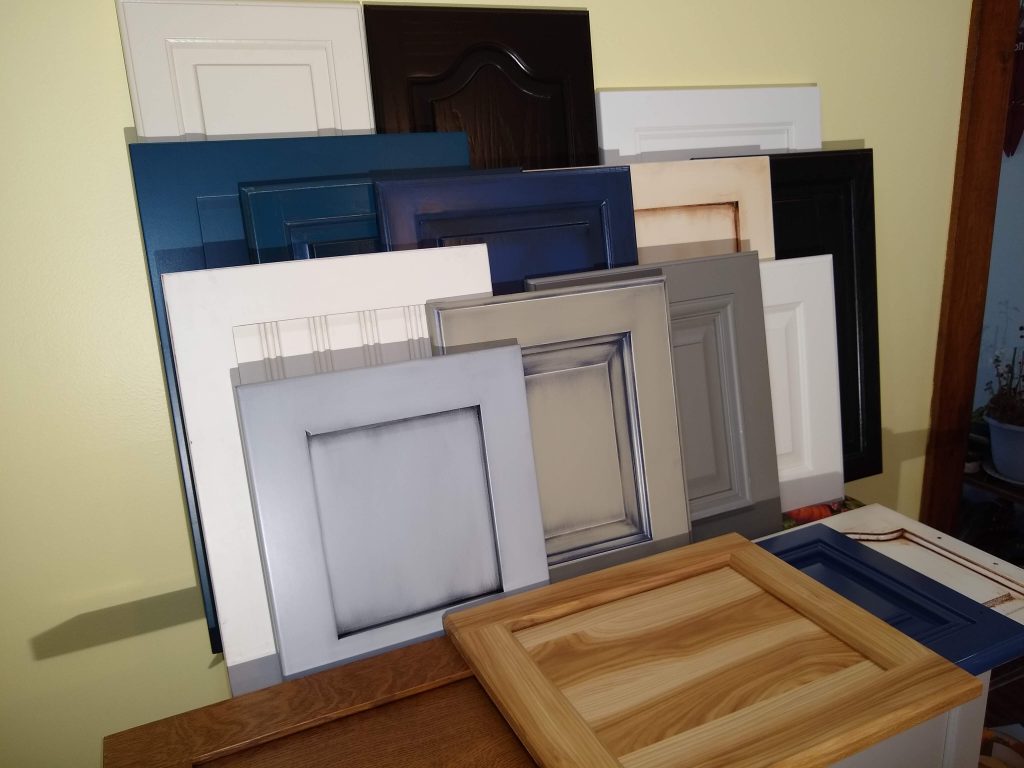 Still not sure what color you want for your kitchen cabinets? Order a pack of some popular trending colors today!